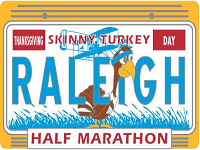 11/23/2017 @ 07:30 am
Just Think First 5K and Skinny Turkey Half Marathon
Half Marathon, 5K, 1 Mile Run
Raleigh, NC
Just Think First 5K and Skinny Turkey Half Marathon
Schedule of Event
Packet Pickup
**Wednesday, November 22 from 12:00 pm - 5:00 pm at Inside-Out Sports of Raleigh
8111 Creedmoor Rd Unit 124

**Thursday, November 23 from 6:00 - 7:15 am for half marathon and 7:45 for 5k at
Wakefield High School

7:15 Pre Race Announcements
7:30 am Start of Half Marathon
7:35 am Start of Kids Fun Run (Start in front of school finish at the finish line)
7:50 am Pre Race Announcemnts
8:00 am 5k start and 1 mile walk in the back

The Skinny Turkey Half Marathon will start at 7:30am and finish at Wakefield High School in North Raleigh. The half marathon course will run through Wakefield Plantation and Wake Falls neighborhood. The course is a rolling design with a few hills that are sure to test fitness. The course is very scenic especially in the Wake Falls neighborhood. Half Marathon participants will receive tshirts and Finisher Medal!
The JUST THINK FIRST 5K Road Race, held each year in the fall, is the major fundraiser for the program. This year the road race is funding a new video currently being produced on the topic of "teens and teenage drug use." The appeal of the JUST THINK FIRST teaching videos relies largely on the fact that they tell the story of something that happened to real people; rather, real students who attended school at Wakefield High. Besides funding for the video projects, proceeds from the 5K race also pay for speakers and various activities planned during the school year. In addition, scholarships are awarded to graduating seniors in the spring.This year's JUST THINK FIRST Road Race starts and finishes at the school on Thanksgiving Day with the 5K run beginning at 8:00 am.

The event will utilize RFID timing with a disposable tag attached to the back of each bib. We used this same system when timing Running Events and the Tobacco Road Marathons.

2200 Wakefield Pines Drive
Raleigh NC 27601

Awards:
In the 5K the top 3 male and female overall, top 3 masters male and female, and to the top three finishers in each of the following age groups: 14-under, 15-19, 20-24, 25-29, 30-34, 35-39, 40-44, 45-49, 50-54, 55-59, 60-64, 65-69, and 70-over.
In the Half Marathon the top 3 male and female overall, top 3 masters male and female, and top 3 finishers in each of the following age groups: 14-under, 15-19, 20-24, 25-29, 30-34, 35-39, 40-44, 45-49, 50-54, 55-59, 60-64, 65-69, and 70-over.

Event Hotel will be the Hampton Inn of Wake Forest!
Hampton Inn of Wake Forest
919-554-0222