About the Event
Sun, June 7, 2020 @ 8:00am
Vista Point Campground - boat trailer parking lot
Overview
Update 03.17.20: We have suspended registration per the recommendations of the CDC regarding large group events. If things change and we're allowed to have the event, we will re-open. Thanks for understanding.
2020
Little Uno and the Big Deuce
Vista Point Family Campground
3199 N Pea Ridge Rd
Pittsboro, NC 27312

Sunday, June 07, 2020
Location and directions:
The race site for 2020 is at Vista Point Family Campground on Jordan Lake. The address is 3199 North Pea Ridge Road, Pittsboro, NC 27312. If you use mapping software please enter "Vista Point Family Campground, 3199 North Pea Ridge Road, Pittsboro NC 27312."
Coming from Raleigh area – take US64 West over the lake. Turn left (south) on Seaforth. After 2 miles you will intersect North Pea Ridge Road. Turn left (south) and enter the park and then drive all the way down to the large parking lot/boat launch area.
Coming from Chapel Hill area – Take 15/501 south to Mt Gilead Church Road and turn left (south). At US64 continue straight, as Mt Gilead Church road turns into N Pea Ridge Rd. Drive into the park and all the way to the large parking lot.
Please note: There is another Pea Ridge road on the south side of the lake and a few people always get lost over that way. We won't be there!
The last day to register is Friday, June 5. No race day/onsite registration is available.
Parking:
Park in the large parking lots near the docks. You're parking enty fee is included with the race fee, but if you arrive much after 730AM you may need to pay a separate $7 parking fee.
Please do not park on the side of the road
anywhere within the park. Please follow the instructions of the volunteer parking attendants. Don't drive through the coned off areas.
Bathrooms:
The park bathroom facilities will remain locked during our event. We have port-a-johns located near the docks.
Packet pick up:
We will have the packet pick up area in the parking lot near the docks launching area. We will start at ~645AM.
T-shirts:
Please sign up not later than Saturday, May 30 to guarantee a t-shirt. We will hand out extras after the swim is complete.
Course and Map:
This is a triangular course and we swim clockwise.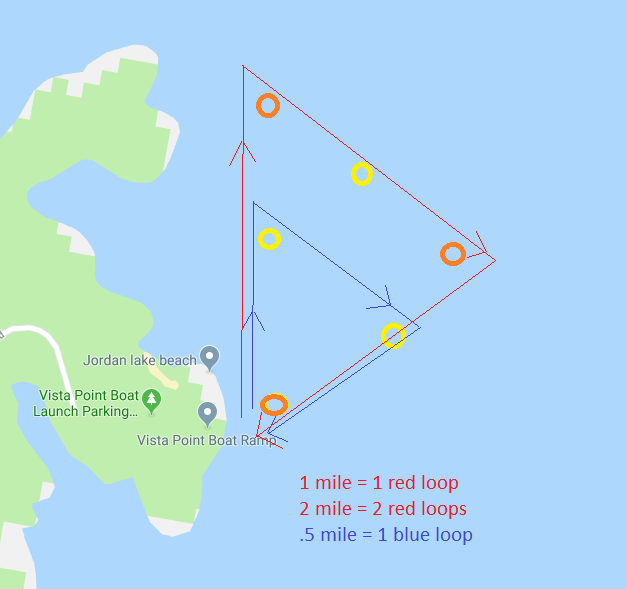 You must keep all buoys on your right side/right shoulder. This is to mitigate any potential cross traffic issues with the 0.5 milers turning on the last interim buoy. Thank you.
0.5 milers - swim to the interim marker (yellow) buoys and return (half of the 1 mile course - the blue lines), then out and cross the timing mat at the middle boat ramp's edge.
1 milers: swim 1 red loop and get out then cross the timing mat at the middle boat ramp's edge.
2 milers: swim 2 red loops. You don't get out of the water at any point. At the buoy nearest the start-finish area (the docks) you do a 120 degree right shoulder turn and then head back out onto the course for loop #2. At the end, get out and cross the timing mat.
You need to keep all buoys on your right side, and go around / make a right-shoulder turn on all the corner orange buoys. When approaching the finish, you will make a ~30 degree right shoulder turn on the orange buoy nearest the dock, then head to the finish line.
Start/finish description:
We will start in overhead depth water in line with the dock. To finish you will need to make that right turn on the nearest orange bouy, then into the second/middle boat ramp, then exit the water and cross the timing chip mat at the water's edge.
Safety:
We will have a number of kayakers, paddleboarders, and lifeguards out on the course. You may stop and take a break at a kayak/board as needed. Please give these folks a shout or wave if you are having any problems at any point. They are there to help you.
The kayakers will have jugs of cold drinks on their craft with paper cups. You can stop at a kayak for a drink as need be. There will also be drinks at the docks available for 2 milers before starting the 2nd loop. Paddleboarders will not have drinks.
Wetsuits & water temps:
Wetsuits are optional when the water temp is below 78, and not allowed when it is over 78 degrees for our events. It could be high 70s to mid 80s in early June.
Swim Safey Device:
If you are a newer or nervous open water swimmer, we will allow you to use the Swim Safety Device. This is not a pull buoy.
Visit this link
. If you choose to use one, please start at the back of your wave.
Timing chips:
We use reusable chips. Please return the chips on completion of the swim. Thank you.
Other equipment:
You may use snorkels. You may not use paddles, pull buoys, fins, or floatation devices of any sort. Wetsuits / neoprene shorts are dependent on the temperature.
Warming up:
You may warm up as much as you'd like, but please keep it near the start/finish area. We will have a couple kayakers out by 745AM to watch out for you, but the main fleet doesn't launch 'till the race gets going.
Weather & cancellation policy:
In the case of inclement weather, we will delay the swim start up to 45 minutes. We will only cancel the event if necessary for the safety of participants. We know there is a chance of rain and storms tomorrow. We will run the event in the rain, and delay if need be for lightning. We will only cancel if we have to.
No refunds or transfers in the case of cancellation due to weather.
Tranfer/refund policy:
No refunds or transfers for this event.
Age limits:
You must be 12 or older to compete in the 1 mile, and 14 or older to compete in the 2 mile. Contact the race director to apply for an exception for experienced swimmers.
Start waves:
We will break into 3 waves:
As close as we can get to:
8:00 All 2 milers
8:05 All 1 milers
8:10 All 0.5 milers
Awards:
For the 0.5 miler - top ten overall men and women
For the 1 and 2 milers: Top 3 overall men / women, top male/female master (over 40), and top 3 in each 5 year age group (15-19, 20-24, etc). No duplication of awards. We will run the 1 mile awards a bit before the 2 mile awards, but don't make any promises on the exact time other than to say, as soon as we can.
New to open water/wetsuits?
If you are new / first timer in an open water event, we suggest you check out the
open water training clinics
hosted by event sponsor One Step Beyond.
Race briefing:
We will hold the race briefing and course description meeting at 745 AM at the water's edge near the dock start/finish line area. After this meeting you will have a few more minutes to warm up should you choose.
Post-race food:
We will have bread from Great Harvest Bread, PB and J, bananas and oranges, assorted cookies, and drinks.
Next events:
Our next
Triangle Swim Series
is the final swim on October 03.
Gold Sponsors
---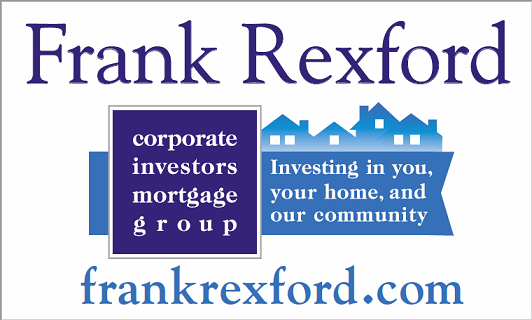 Whether purchasing a new home, refinancing an existing mortgage, consolidating debt, downsizing for retirement, investing in real estate, or simply considering a home improvement project, I help my clients find the loan that is right for them. I work with many different lenders and investors in order to be able to find the best possible financing strategy for each individual client.
frankrexford.com
Senior Mortgage Banker
Corporate Mortgage Investors Group, Inc.
1414 Raleigh Road, Suite 400
Chapel Hill, North Carolina 27517
---

We established Schneider Law Group, a business boutique firm, as an attractive alternative to the large firm model for both clients and attorneys. We believe that a law firm can help clients feel comfortable and assured with their legal services and at the same time be a place where an experienced attorney can enjoy the practice of law.
We provide services in the areas of
business
,
commercial real estate
,
tax
and
employment
law.
p:
919 324 3600
|
f:
919 457 1478
|
e:
info@schneiderlawgroup.com
1201 edwards mill road suite 130 raleigh, nc 27607