2018 Rho Smile Train Tri
June 24, 2018 will be the 11th running of our little neighborhood race! The Rho Smile Train Triathlon, presented by Dr. Melissa C. Davidian, was the first triathlon in the world to benefit Smile Train - the world's largest cleft lip and palate charity.
What makes this race special? We send 100% of the athlete registration fees to Smile Train. Since 2008, we've generated over $300,000 in donations our Smile Train! Register to run, give your time as a volunteer, buy some Smile Train Tri gear, or just make a donation. It all helps make this event a success for everyone - but especially for Smile Train.
Race Week Timeline
Wednesday, June 20: Online Registration Closes, Last day to change swim times
Thursday, June 21: Swim Order/Race Numbers publicized
Saturday, June 23

1-4pm Packet Pickup @ Spoke Cycles in Wake Forest
6-7pm Race Director Meeting/Site Walkthrough @ 804 Heritage Lake Road

Sunday, June 24

6:30-7:30am Race Day Packet Pickup & Registration, Timing Chip Pickup, Body Marking
7:45am Transition Area Closes
8:00am Race Start
11:30am Awards Ceremony
Complete Pre-Race Guide
This will answer all your questions about parking, body marking, chip pickup, etc.
Course
Swim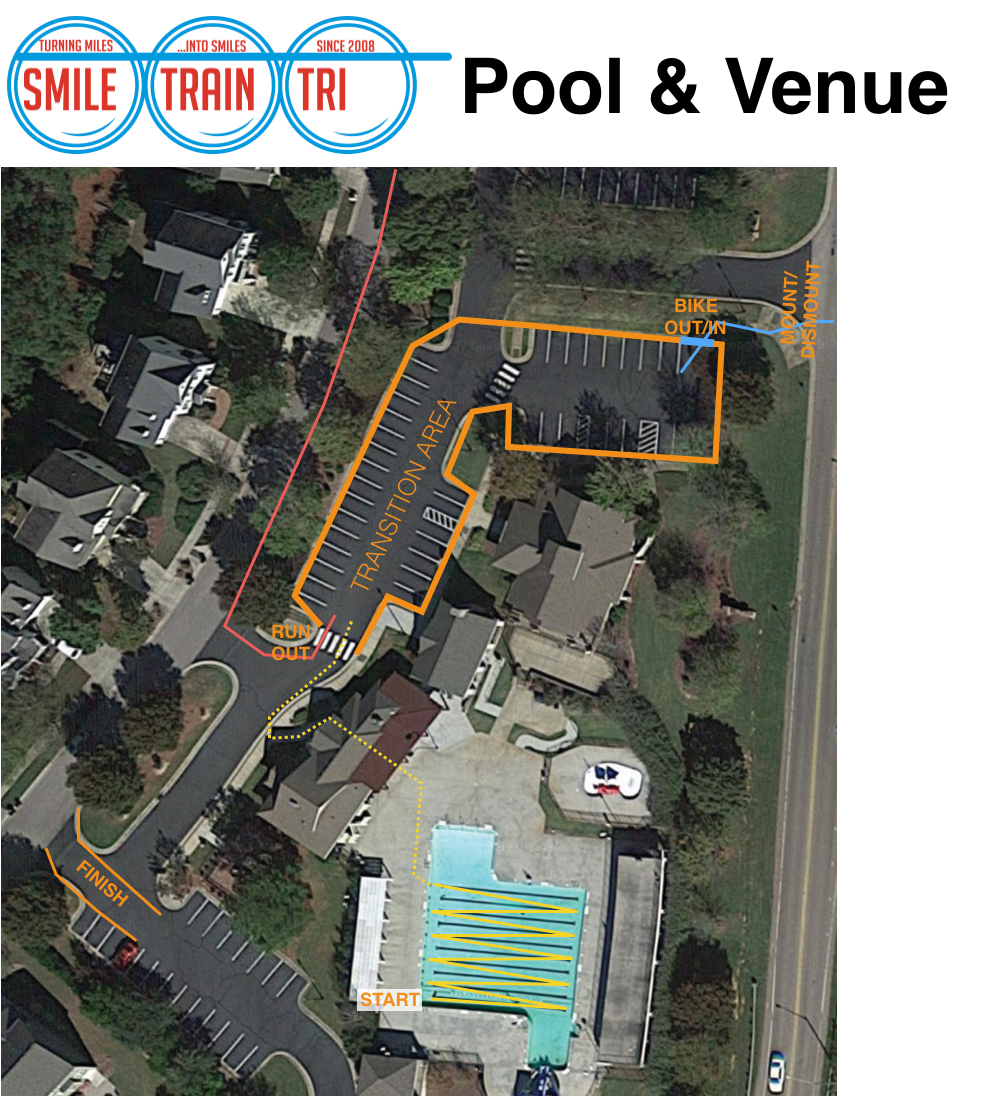 The course takes place in the Heritage Wake Forest area starting with a 250m pool swim. Starting at one end of the pool, swimmers proceed down each lane one time - changing lanes every time they get to a wall. This means there is only one direction of traffic in every lane! More room to pass, or get passed. Athletes enter a projected swim time for the FULL 250m swim distance and that is used to order swimmers for the start. Swimmers who want no pressure can put 99:99 as their swim time and they will be put last in the group. We support everyone on this swim! From the first to the last!
Our relatively flat 12-mile bike course (out-and-back) has minimal hills and is supported by Wake Forest PD and Wake County Sherriffs Deputies and volunteers at every turn. The first mile has a few rolling hills, from mile 1-2 it is a slight, not very noticeable, incline and then it flattens out all the way to the u-turn point. On the way back from about mile 10-11 cyclists get a nice long downhill followed by the rollers coming back to the race site. We do NOT close the roads for this bike course so please be aware that there may be traffic on the route. Follow the instructions of all volunteers and Police to ensure a safe ride.
The run is an out-and-back 5K providing 3 aid stations pretty evenly spaced through the course. The residents along Heritage Heights have a tendancy to get pretty involved and we love it! Kids with water canons and sprinklers as well as un-official "temptation stations" with everything from bacon to donuts! There are an equal amount of uphill moments as there are downhill ones. Hang in there and FINISH STRONG!
Post Race
The post-race party is as much fun as the race! We have many of our sponsors and vendors come out that it feels more like a block party! Kona Ice is always there, we bring out a bounce house and some munchies and drinks, and I usually have a yummy food vendor selling their goods. Massages provided by Orthopedic PT Associates, a kid zone with jump ropes, sidewalk chalk, and bubbles, and maybe even a face painter!

Our awards ceremony begins at 11:15am and is the best part of the day. Since this is our 10th year I am excited to announce that we have a guest coming in all the way from California (Zach of 1 in 700) just to our race. We may even get some of the Smile Train peeps from the NY office to come by! I'm working hard to push our 10-year donation total past the $300,000 point. The way you can help is by racing with us!
Questions
The Race Director, Rebecca Warriner, is available to answer any question you have about the race! Email her at Rebecca@MilesIntoSmiles.com



The Rho Smile Train Sprint Triathlon is a USA Triathlon sanctioned event. USA Triathlon is proud to serve as the National Governing Body for triathlon, as well as duathlon, aquathlon, aquabike, winter triathlon, off-road triathlon and paratriathlon in the United States. Founded in 1982, USA Triathlon sanctions more than 4,300 races and connects with nearly 500,000 members each year, making it the largest multisport organization in the world. In addition to its work with athletes, coaches and race directors on the grassroots level, USA Triathlon provides leadership and support to elite athletes competing at international events, including International Triathlon Union (ITU) World Championships, Pan American Games and the Olympic and Paralympic Games. USA Triathlon is a proud member of the ITU and the United States Olympic Committee (USOC).