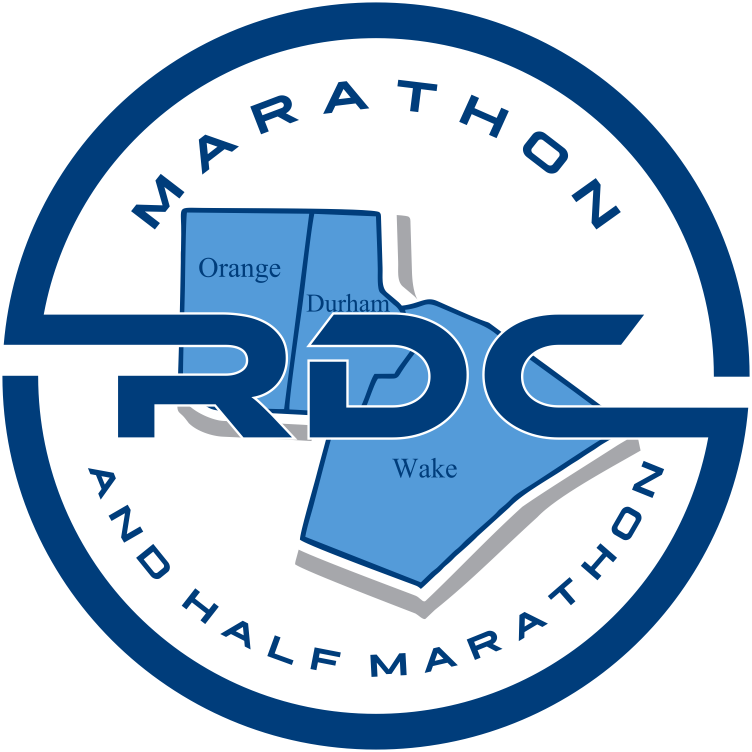 10/27/2024 @ 7:10 am
RDC Marathon, Half Marathon, 10k, and 5k
Full Marathon, Half Marathon, 10K, 5K Run
Durham, NC
How many participants are expected?
There is a limit of 1000 full marathon and 1500 half marathon participants.
What time do the events start?
Marathon/half marathon start at 7:15 am Sunday.
10k/5k 7:45 am Sunday.
Is there a time limit?
Yes. The time limit for marathon is 7 hours and time limit for the Half Marathon is 5:00. Any runners on the marathon course after 2pm will be picked up by one of the SAG wagons and taken start/finish line at The Streets at Southpoint Mall.
Where is the host hotel?
Check out the
Travel tab
for all the hotel information!
What is the refund process?
Full refunds minus the initial processing fee up to October 12th. After October 12th no refunds or deferrals are available.
On course nutrition
Water stations will be located no more than 2 miles apart with offerings of water, electrolyte, gels (after mile 10) and other snacks and goodies. The official drink of the event is Gatorade, and the official gel is Honey Stinger Gels.
Can you switch event distances?
Yes, you can switch distance until October 23.
Is the marathon a Boston Qualifier?
The course is USATF certified and is eligible for use as a
Boston Marathon qualifier
RDC Marathon
- USATF Certificate - #NC17006BDS.
Are there awards?
Yes, there will be awards for both the marathon and half marathon. Overall and Master awards will be based on Gun time, and the Age Groups will be based on Net time.
Marathon and Half Marathon ~ Top 3 Overall male and female - Top 3 Masters male and female
Male and Female ~ Age groups are 19 under, 20-24,25-29,30-34,35-39,40-44,45-49,50-54,55-59,60-64,65-69,70-74,75-79,80+
Where do I park?
The Streets at Southpoint Mall has 6,400 parking spots so there are plenty of spaces available. There are also hotel options within walking distance to the event site, so check out the
Travel Page
.
Are jogging strollers allowed?
Special consideration for groups pushing a disabled athlete may be requested by email.
Can I have someone else pick up my race packet for me?
Yes. They must have a photocopy of your driver's license or another photo ID.
Inclement Weather Plan
Consistent with the USA Track & Field position on weather and weather-related cancellations, we do not offer refunds. Participating in an organized run is a "shared risk" event. That is standard practice in our sport and industry and also part of the waiver in forms all participants agree to when they register.
Do you provide bag check?
There is no bag check since parking is so close to the start finish line. Please make sure to lock your car and keep your valuables out of site.
Are earphones allowed?
Earphones are permitted, but we request that you make sure you can hear directions from race officials, police and volunteers.