Super Hero Run/Run For You 5K
The 3rd annual eTix Super Hero Run/Run for You is Saturday, October 28, 2017 with festivities running from 7am-10am. There will 3 on-site events, as well as a virtual race.
8:00am: 1.1mile run/walk
8:30am: 3.1mile chip-timed run/walk
9:30am: FREE Heros-in-training 25meter dash for runners 5 & under
Virtual 5K: t-shirts and race numbers will be sent to out-of-town runners unable to attend in person
By including the "virtual 5K" we will embrace friends, family, and others in our national community who want to help but can't (or don't want to) run.
Course
We begin right in front of Run-n-Tri Outfitters head behind the building and up to Retail Drive. Continue on Retail Drive to Warmoven and proceed through the Crenshaw Hall neighborhood to the half-way point then return.

At the half-way point for the 5K, you will find our Precision BioSciences Aid Station with ice cold water and maybe some special Halloween treats!

The 5K is USATF certified and sanctioned, therefore bicycles, tricycles, skates, boards, or scooters are not allowed.
Schedule of Events
Packet Pickup
We will do packet pickup at Run-n-Tri Outfitters located on Retail Drive in Wake Forest. Registration will be available onsite and t-shirts will be given out to new registrations as they are available.
Friday, October 27 4-6pm
Saturday, October 28 7-8am
Medals
Everyone who finishes the 5K will receive a medal! As soon as we have the medal designed a photo will be posted!
Costume Contest!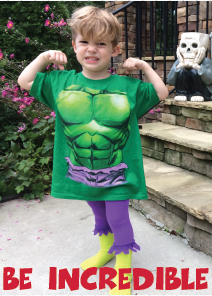 Starting in 2016, we featured a Super Hero - in 2015 it was informally Super Man, 2016 it was Hulk, and in 2017 it will be The Incredibles: think team/family costumes! This means anyone dressed as The Incredibles (or a member of The Incredible family) can be in our costume contest.
The costume contest will be judged with by the Race Director and there will be prizes for the winners.

So as you are shopping, be on the lookout for something Incredible!
Race Day Drives
We are all about doing good! Help us continue the reach of Turning Miles into Smiles.

Shoe Drive: Clean out all the used shoes in your house - running shoes, fashion shoes, dress shoes, kids, adults, we will take them all! After the race I take them to a few local schools so they can stock their clothing closet. The remainders are taken to SRI Shoe Warehouse to benefit Soles4Souls.org!

Books: Clean out your bookshelves! We need your used books to donate to our schools, the Boys & Girls Club, and other local programs supported by Page 158 books.

NEW Pajamas: Sam Hopper loved pajama day! His sweet family collects pajamas each year on his birthday and donate them to children in Wake County who need new pjs. Any size can be donated. Please grab some PJs next time you are at the store to clothe a local child at night.

NEW Toiletries: You know all those little sample bottles of shampoo, toothpaste, floss, soap, qtips... that you pickup at hotels? We need those! You can also buy them in the travel section of most grocery and drug stores. Toiletry bags are made and given to a few local high schools that students in need can get for free from their school. This is supported year-round by Sweetie's Candy Shop. You can always donate toiletries with Ms. Darlene. Please no shaving items.
In Partnership With The Wake Forest Masonic Lodge
Masonry (or Freemasonry) is the oldest fraternity in the world; its origins have been lost with time. Masonry is deeply involved with helping people, spending over $1.4 million daily in the US, just to make life better. A key principle of Masonry is each person has a responsibility to make things better in the world. The majority of those helped goes to people not Masons such as the Shriners' Crippled Children's Hospitals and Burns Institutes; the Scottish Rite Masons maintain a nationwide network of over 100 Childhood Language Disorders Clinics, Centers, and Programs.
The Wake Forest Masonic Lodge has 2 primary charities. This run supports the Masonic Home for Children in Oxford.
Benefiting
FARA
The Run for You benefits the
Friedreich's Ataxia Research Alliance (CureFA.org)
. Friedreich's Ataxia is a national non-profit organization dedicated to curing this rare neuro-muscular disorder. Alison lives in Wake Forest with this condition and her family, and our community, are commited to raising funds to cure this disease.
Donate directly to CureFA.org supporting Alison: http://fara.convio.net/goto/2017alisonp
SAM HOPPER MEMORIAL FUND
All runs are dedicated to the memory of Sam Hopper. Sam lived in Raleigh for 6 short years and all that knew him loved him. He earned his wings in October 2014 but his memory lives on. He was a huge superhero fan so we will be encouraging people to bring out their inner superhero. Everyone supporting our race is a hero.
Donate to the Myocarditis Foundation
.
MASONIC HOME FOR CHILDREN IN OXFORD

MHCO exists for one purpose — to help children who need a stable, caring and loving home. They do not replace a family — they provide. Teaching, guiding, nurturing, sharing, and focusing on life both at and after MHCO, to help a child determine his or her own path for the future. Their state licensed and nationally accredited home uses a family-living model that provides our children with individual living spaces, essentials needed for daily living, support if they have special needs, and a promise for full development and learning, from infant to young adulthood.
The mission of MHCO is fulfilled through the support of charitable giving and backed by almost a century and a half of faith, concern, and the ability to adapt to the changing needs of society and its children and families. A pre-placement visit allows families, guardians, or childcare advocates to explore all aspects of our care. Donate to the Masonic Home for Children in Oxford.