MK5K
I am exited to announce that the nationally known MK5K benefiting The Mary Kay Foundation is coming to Wake Forest! On Sunday, May 14 - Mother's Day - we will have the 1st running of the MK5K in Wake Forest.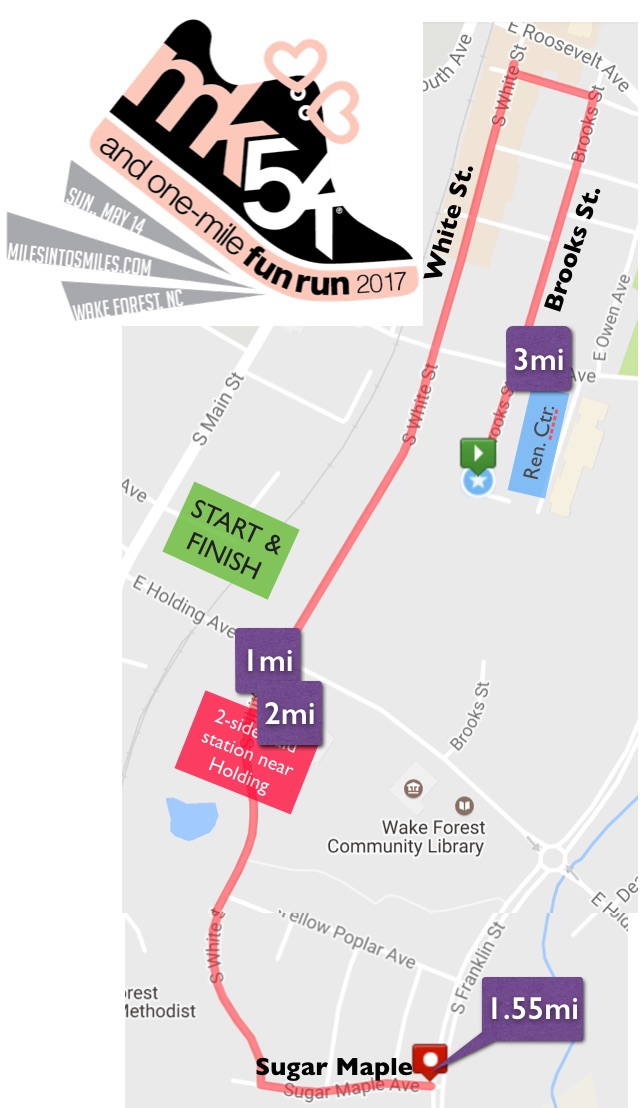 Course
The 5K run/walk course has been approved! Enjoy a nice out-and-back jog through downtown Wake Forest, past our wonderful local shops starting and ending on Brooks Street in front of the Wake Forest Renaissance Center!
There will be 1 water station, which you will pass twice on the race course. With a nice mix of flat stretches and a very few hills this run provides something for everyone.
Training for a 5K
Looking for a good training plan? Just google "5K training plan" and wow... here's one that I liked as it has 3 options for a first 5K, best 5K, or fast 5K!
View the plan
!
The minimum pace requirement for the 5K is 20-minutes per mile.
Awards will be announced at 9:30am, and volunteers will be released after the last "official" runner. HOWEVER, you
will
still
get a medal
and our finish line will be open until 10am!
8:00am: 1-mile run/walk
8:30am: 5K (3.1mile) chip-timed run/walk
FREE High Heel Hustle (must be 18+)
Donation or Shirt Only: no racing, just the goodies! Come to packet pickup on Saturday to pick your swag.
This race is USATF certified and sanctioned so bicycles, tricycles, skates, boards, or scooters are not allowed.
SWAG (sweet awesome gear!)
Everyone who finishes the 5K will receive a wooden rose (which you can spray with your favorite fragrance at our scent station!), a commemorative medal and I promise, you will be happy you earned this one! A race tee is included in the cost of your registration as well; all survivors of cancer and domestic violence will receive an alternate "SURVIVOR" t-shirt.

If you wish to purchas additional MK5K gear you can do so during registration. All the gear items have been tested by my friends and confirmed awesome!
Packet Pickup
Saturday, May 13: 1:00pm-4:00pm at Sole Dimensions, 10560 Ligon Mill, Wake Forest, NC
Sunday, May 14: 7:00-8:00am at Wake Forest Renaissance Center, Wake Forest, NC
High Heeled Hustle!
After the 5K, before the awards we will do our High Heeled Hustle. So break out those pumps that are 3" or higher and get up on those toes! You'll be sprinting across the finish line and the winner gets a full-size Mary Kay product basket. This dash is open to runners ages 18+ only; this age limit will be enforced.
Sponsor Openings
As this is a 1st year race, there are plenty of sponsor openings! Our 2017 Sponsor Kit contains all the details you need and you will find our sponsorship levels will work with just about any budget. As a thank you for supporting, every sponsor will be given 5 free entries to the 5K as a thanks to you and your employees!

Want to support this race? Let's talk! Email Rebecca@MilesIntoSmiles.com or call 214.564.6654 and we can work something out. Our goal is to cover the cost of the race with our sponsor support so we can send 100% of our registration fees to charity!
Benefiting
Since its inception 20 years ago,
The Mary Kay Foundation
their mission has been to eliminate cancers affecting women and to end the epidemic of violence against women.
The Mary Kay Foundation has invested $38.6 million in its annual shelter grant program. The funds are provided on an unrestricted basis, meaning organizations can apply them where they are needed most. The fact that shelters across the country can use these unrestricted funds to best fit their immediate needs has often made the difference between keeping the doors open or closed, helped maintain a critical service or provided a life-saving safe place for a family in needs