Super Hero Run/Run For You 5K
Why Run The Super Hero Run?
For the fourth year, friends, family members, runners and walkers come together to support two families who have suffered too much after their children were affected by rare diseases. Come out to Wake Forest to help raise funds for Myocarditis and Friedreich's Ataxia to help find a cure or effective treatment so others don't have to go through the same challenges. (See the Charity page for more information.)

The families are focused on making the day festive and fun and want everyone to enjoy this Super Hero Run while dressed as their favorite character! Come out and feel like a child again as you become SuperMan, WonderWoman or maybe the Incredible Hulk while running through a quiet Wake Forest neighborhood.
Join us Saturday, Oct. 27, 2018 (start time 8:00am)
The event is stroller-friendly and pet-friendly so don't worry about getting a babysitter or dogsitter - we don't want anyone in the family left behind!
Race Day Schedule
The 4th annual eTix Super Hero Run is Saturday, October 27, 2018 with festivities from 7am-10am. There will three on-site events, as well as a virtual race.
8:00am: 1.1mile run/walk

8:30am: 3.1mile chip-timed run/walk

9:30am: FREE Heros-in-training 25meter dash for runners 5 & under

Virtual 5K: T-shirts and race numbers will be sent to "runners" who were unable to attend
By including the virtual 5K we will embrace friends, family, and others in our national community who want to help our causes but can't (or don't want to) run.
Course Description
We begin right in front of Run-n-Tri Outfitters, head behind the building and up to Retail Drive. Continue on Retail Drive to Warmoven and proceed through the Crenshaw Hall neighborhood to the turnaround.

At the turnaround point of the 5K, you will find our Precision BioSciences Aid Station with ice cold water and maybe some special Halloween treats!

The 5K is USATF certified and sanctioned, therefore bicycles, tricycles, skates, boards, or scooters are not allowed.
Awards
Top three overall male and female winners
Top three overall male and female masters

The top three male and female athletes in each age of the following age groups will also receive awards.
8 and under; 9-11; 12-14; 15-19; 20-29; 30-39; 40-49; 50-59; 60-69; 70+
Finishers Medals
All registered participants will be greeted at the finish line with a 2018 Super Hero Run medal! Watch the News and Updates page for the new design.
Costume Contest!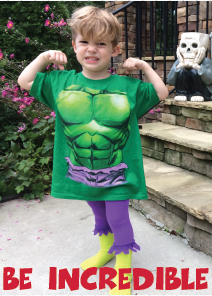 Starting in 2016, we featured a Super Hero - in 2015 it was informally Super Man, 2016 it was Hulk, and in 2017 it wasThe Incredibles: think team/family costumes! Anyone who dressed as The Incredibles (or a member of The Incredible family) was in our costume contest.

We will let you know the theme for 2018 soon!
The costume contest will be judged by the Race Director with prizes for the winners.
Race Day Drives
Books: Clean out your bookshelves! We need your used books to donate to our schools, the Boys & Girls Club, and other local programs supported by Page 158 books.

NEW Pajamas: Sam Hopper loved pajama day at school! His sweet family collects pajamas each year on his birthday and donates them to children in Wake County who need new PJs. Any size of new, packaged pajamas can be donated. Please grab some next time you are at the store to clothe a local child at night.

NEW Toiletries: You know all those little sample bottles of shampoo, toothpaste, floss, soap, qtips... that you pickup at hotels? We need those! You can also buy them in the travel section of most grocery and drug stores. Toiletry bags are made and given to a few local high schools that students in need can get for free from their school. This is supported year-round by Sweetie's Candy Shop. You can always donate toiletries with Ms. Darlene. Please no shaving items.