Triangle Open Water Hurricane Swim 0.6, 1.2 and 2.4 miles

Triangle Swim Series Championship aka The Hurricane Swim
New Hope Overlook
448 W H Jones Road
New Hill, NC 27562
October 07. 2018
800AM Start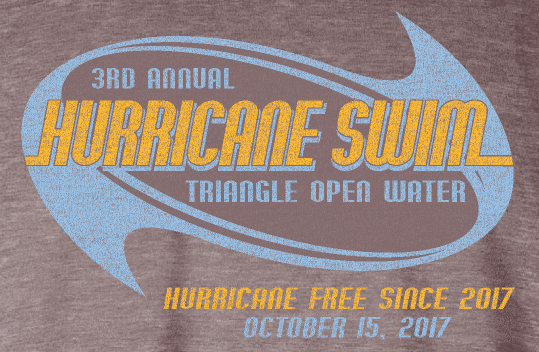 Thank you for joining us for the fifth annual Series Championship. Please read this for all the details on the race.
Location and directions:
The race site is at New Hope Overlook Boat Ramp. 448 W H Jones Road, New Hill, NC 27562. We will start and finish at the boat ramp docks.
From Raleigh: Take US 64 west to the 1008 / Beaver Creek road intersection. The Wilsonville Exxon store is on the left. Drive ~2.5 miles south to Pea Ridge road and turn right. Drive ~1 mile and then turn onto W H Jones Road.
From Chapel Hill: Take Mt Carmel Church Road South to Farrington Point/Farrington Road and continue south. You will cross over US 64 (this is where the Wilsonville store is) where the road turns into Beaver Creek. Follow the directions above.
Parking:
Park in the large lot near the start area. Your parking fee was included with your entry fee. If you're competing, please arrive no later than 715 to get your stuff and get situated. Please do not park on the side of the road anywhere within the park.
Packet pick up:
We will have the packet pick up area near the boat ramps/docks. We will start at 645AM.
T shirts:
Please sign up by Sunday, October 08 to guarantee a race t-shirt.
Course and Map:
Update coming soon. It is a clockwise triangular course. All right-shoulder turns. You only need to swim on the left side of the turn buoys (so that you can make a right turn). The interim buoys are for sighting purposes only and you may swim on either side of these.
0.6 milers - swim to the interim (sighting) buoys and turn these - half of the 1.2 mile course.
1.2 milers: swim 1 loop and get out at the boat ramp and cross the timing mat.
2.4 milers: swim 2 loops. You don't get out of the water at any point. At the buoy nearest the finish area you do a right shoulder turn and then head back out onto the course for loop #2. At the end, get out and cross the timing mat.
Start/finish description:
We will start in overhead depth water lined up with the docks. To finish you will need to exit the water and cross the timing chip mat at the water's edge.
Safety:
We will have a number of kayakers, paddleboarders, and lifeguards out on the course. You may stop and take a break at a kayak/board as needed. Please give these folks a shout or wave if you are having any problems at any point. They are there to help you.
Timing chips:
We use reusable chips. Please be sure to turn these in at the finish.
Wetsuits & water temps:
The water temperature in October is usually ~70 degrees. Wetsuits are optional & permitted for competition. You can keep track of Jordan Lake water temps here:
http://epec.saw.usace.army.mil/bejrept.txt
Warming up:
You may warm up as much as you'd like, but please keep it near the start/finish area. We will have a couple kayakers out by 745AM to watch out for you, but the main fleet doesn't launch 'till the race gets going.
Weather policy:
In the case of inclement weather, we can delay the swim start up to 45 minutes. We will only cancel the event if necessary for the safety of participants.
No refunds or transfers will be given
.
Transfer/refund policy:
No transfers or refunds for this event.
Start waves:
As close as we can get to:
8:00 All 2.4 milers
8:05 ALL 1.2 milers
8:10 ALL 0.6 milers
Awards:
For the 0.6 miler - top ten men and women overall
For the 1.2 and 2.4: Top 3 overall men / women, top male/female master (over 40), and top 3 in each 5 year age group (15-19, 20-24, etc). No duplication of awards. We will run the 1.2 awards a bit before the 2.4 awards, but don't make any promises on the exact time other than to say, as soon as we can.
New to open water/wetsuits?
If you are new / first timer in an open water event, we suggest you check out the
open water training clinics
hosted by event sponsor One Step Beyond.
If you have never swum in a wetsuit before and plan to at the race, we
even more strongly suggest
you take it to your local pool as soon as possible and swim a few laps in it. Wetsuits take some getting used to and your first time should not be in a race situation.
Race briefing:
We will hold the race briefing and course description meeting at 745 AM at the water's edge near the finish line area. After this meeting you will have a few more minutes to warm up should you choose.
Post-race food:
We will have bread from Great Harvest Bread, PB and J, bananas and oranges, assorted cookies, and drinks.
Next events:
See you in 2019!
Thank you and we will see you on the beach!
- The teams at FS Series and One Step Beyond